The Focuser's Focus, Vol.18, No.4, Winter Issue 2016
History of The Focusing Community in the Pacific Northwest of
the North American Continent
By Anna Willman (Focusing Trainer) with assistance from
Nina Joy Lawrence (Certifying Coordinator)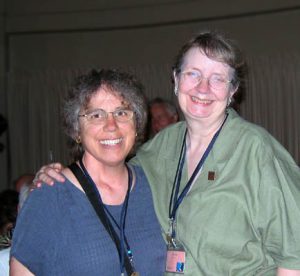 Nina Joy Lawrence (left), Anna Willman  (right)
When I moved to the northwestern U.S. in 1989, there were just three Focusing Professionals in the Oregon section of The Focusing Institute data base, including myself.   I contacted the nearest trainer, Kathy McGuire, who lived an hour away.
As a graduate student in Chicago Kathy had helped Gene Gendlin start the original teaching of Focusing in the first Changes Group in 1970.  In Oregon she used Focusing in her private practice, and started one or more Changes Groups.  She got people interested in Focusing by holding monthly workshops connecting Focusing to some popular topic drawn from a local issue, a recent movie or TV show, or some current event.  Kathy also organized periodic weekend retreats for therapists and counselors, where Focusing was taught to professionals.
During my first year as director of a social service program called the Confidence Clinic, I asked Kathy to do a weekend retreat for the staff, a first step to my introducing Focusing to that program.  The staff and I were able to incorporate Focusing into the operation of the Clinic during the next 18 years.
When Kathy married and moved to Arkansas, she left behind an active Changes Group. It gradually shrank as older participants became frail, but still continues 20 years later as a men's support group.
For several years after Kathy left, Oregon Focusers continued to be scattered, and operating separately except for the small Changes Group. One of these Focusers was Nina Joy Lawrence, who lived two hours travel from me.  She received her first training from Kathy McGuire in the 1990s, and joined Ann Weiser Cornell's training program in 2001.  By 2004 she became interested in bringing Focusers together in our area, and contacted me and Linda Prier, who had been Focusing for years on her own, after learning from Gendlin and Mary Hendricks in the early days in New York.  We lived in three different cities within a radius of about 150 miles, so we met midway between.
The three of us sent out invitations to all the Focusers we knew about, inviting them to come together.  Thus began a series of quarterly meetings held at a central location. Some of us traveled two hours each way but we made sure that all could attend and get home within a day.  We usually had about 14 people at these quarterly meetings, some who had learned from Kathy, some of my trainees, some Nina Joy had taught, and some who had learned from Gene, Ann or others.  From the beginning our group has included people from many Focusing traditions and has tried to stay inclusive.
In 2008 Nina Joy felt the need to expand our group and reach out to Focusers farther away.   A feeling for the size of the territory she wanted us to reach can come from imagining being in the middle of our coastal area, and traveling by train or car for about 12 hours north, or south or east. Nina found other small active groups by contacting all the Northwest Focusing Trainers she could locate in the 2008 Focusing Institute directory, and anyone who had trained people in our area of the continent.
Two of the nine Focusing teachers in our area found the time and energy to help Nina organize that first gathering.  They were Miriam Atkins, a Chicago-trained Focusing professional and Jane Nelson, trained by Jane Bell and Ann Weiser Cornell.  Others, like Kevin Krycka who teaches Focusing at Seattle University, Jack Blackburn in Seattle, and Katarina Halm in Vancouver, Canada, helped train the Focusers who did take part.
Miriam and her husband Len had a small resort on the beach.  Miriam had been training people who passed through their lodge, and she also held small workshops there.  Miriam and Len graciously made their space available for a winter gathering and invited Miriam's students.
Jane Nelson was active in a Focusing community that started during the training workshops Jane Bell gave in the Seattle area. Jane Bell was Ann Weiser Cornell's work partner at the time.  Nina connected with Jane Nelson at a Treasure Maps workshop taught by Ann and Barbara McGavin in 2005. Jane Nelson helped us invite more people, so that eighteen of us from Washington and Oregon found our way to that first Northwest Focusing Gathering, including Jeffrey Morrison and Donna Varnau, who had recently become certified trainers through Ann's training program.
The next year more of us met at a sports camp in Oregon, and we have met every year since then, alternating between Oregon and Washington.  We draw participants mostly from three large states and a province of Canada.  Sometimes people come from further afield.  Most of us can travel by car to our meeting place in eight hours or less but some fly from further away or come by train.
Our annual Northwest Focusing Gathering format is simple.  We purposely keep the cost low, covering only room and food expenses, with just enough extra to be able to offer a few scholarships.  The sites are not fancy, but always in beautiful settings with lots of opportunities to walk on the beach or in the woods.  There is always plenty of good food to eat.
We meet for a long weekend each spring, coming together first on Friday afternoon to collaboratively create the program for our time together.  Our gathering includes professionals and nonprofessionals, and all of us are equal members.  We encourage anyone who attends to consider presenting on a topic related to Focusing.  We have had workshops, explorations, or presentations on Focusing and… spirituality, meditation, many kinds of body work, writing, philosophy, end-of-life questions, creative play, walking a labyrinth, calligraphy, clay, collage, postcards, dreams, TAE, walking in nature, and much, much more.
Usually one of our professionals will offer a basic Focusing class at a reduced rate for those interested.  We schedule lots of time for individual focusing turns and always have a Focusing Follies evening, when we all sing and play together with much enthusiasm.  At the end of our time together, we always sit down for one hour and ask ourselves, "What did we love about our time together this year?"  And then "What could be even better?"  From the gathered responses, we find what to keep doing and what changes to try next year.
In 2016 we will hold our 9th annual Gathering.  In recent years we have about 35 participants, with a core group of twenty who are consistent attenders.  We have formed strong bonds, even though many of us see each other just once a year at this event.
Each year a group of five or six takes on responsibility for organizing the next year's event.  Organizing meetings were originally conducted by telephone, and now mostly use video conferencing.  Since program content is settled at the event, organizing is simple: securing the place, advertising the event, and collecting fees and information about dietary needs from attendees.
It was the strength of our sense of community and our experience in organizing this annual gathering that gave our Northwest Focusing community the courage to plan the 2015 International Focusing Conference in Seattle. Successfully completing that project has connected more of us in the area, and we are exploring other ways to enliven our community.  A Facebook page is open now for exchanging information.
We continue to hold local Changes Groups in various locations in the Northwest between our annual Gatherings.  With Kathy McGuire planning on moving back to Oregon soon, we look forward eagerly to seeing more Focusing activities develop.
We can see that encouraging Focusing in this large area of the North American continent has started with a few individuals sharing our practice with small groups.  Once enough people knew and loved Focusing, all we needed was for someone to take the Initiative to call them all together into a larger circle.  And in that larger Gathering, crossings of our body wisdom have created an ongoing lively community.