The Focuser's Focus Vol.17 No.2 Summer Issue 2014
History and Development of Focusing in the Francophone Community in Quebec
By Marine de Fréminville(Certifying Coordinator since 1992, Canada)
Edited by Patricia Manessy(Certifying Coordinator since 2002, Canada)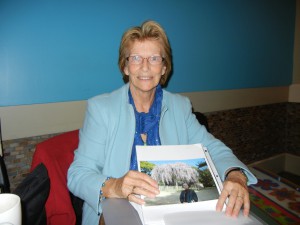 For over 30 years, Focusing has been growing and expanding in French-speaking Quebec, Canada. Some pioneers went to Chicago to meet Gendlin and attend a Focusing training workshop with him, following the discovery of one of his articles, which was circulating in the universities, entitled "A Theory of Personality Change", published in 1964 and translated by Fernand Roussel in 1975, or as a result of reading the book, Focusing, translated in 1981. Thenceforth, since the 1980s, Gaston Boulanger, passionate about Focusing and Dreams, led groups on the subject and continues to this very day. Marie-Anne Quenneville (now retired) created her own Focusing school and trained many students over the years, including Denis Archambault and Danielle Grégoire who continue with their own training programs. In 1986, motivated by Gendlin's personal visit to Eastman, QC, Catherine Pichard (who has since returned to France), Thérèse Fortier (now deceased) and I integrated Focusing into our therapeutic practices and taught Focusing together for nearly 15 years. Denise Nöel subsequently specialized in Focusing and Art. Diane Bourbonnais, one of the pioneers, along with her husband, continued to teach Focusing at the University of Ottawa (Ontario) in French. Francine Bergeron, trained by Denise Roussel in 1983, taught Focusing and self-healing in numerous places in Quebec and in New Brunswick, integrating it into her therapeutic and massage practice, and subsequently combined it with yoga, as has Luciemay Therrien (who was trained by Francine). In 2001, Patricia Manessy and I created the Bilingual Focusing Center of Montreal, teaching Focusing workshops extensively (including Dreams, the Interactive Process, and initiating monthly Supervision Days towards certification). Patricia brought Focusing into NHC Institute, a holistic school where Levels 1 & 2 became mandatory for their 3-year diploma program. Over the years, international Focusing teachers were invited to give workshops, translated into French: Kevin McEvenue, Robert Lee, Lucie Bowers, René Veugelers, Nada Lou. Also in 2001, at the International Focusing Conference in Ireland, I met Olivier Gourmet from Belgium, and since that time, a long collaboration (over 12 years) ensued in French and sometimes in English, in Liege, Belgium.
Solange St-Pierre came to join this initial group; she has since become a Certifying Coordinator and is the initiator of a project to create a French association, Diffusion Focusing Québec (DFQ). DFQ was originally formed in 2006 as a non-profit organization to support the holding of the 20th International Focusing Conference in Bromont, (just outside Montreal), Quebec, Canada in 2008. This was an opportunity to provide an 'Open Door Day' in the French language, allowing the francophone community accessibility to this international gathering. Following this achievement, it was decided to maintain the Quebec association, Diffusion Focusing Québec and to create, thanks to the considerable efforts of Solange, a new website offering extensive information and documentation accessible to all persons wishing to become a member; it also allowed the consolidation of francophone Focusing Practitioners/Guides, Teachers, Therapists (see website: www.diffusion-focusing.org). A French newsletter, 'Porte ouverte sur le Focusing' was published in 2009 and 2010. Also, a mentoring program for Focusing partnerships has been successfully established and is still in force 4 years later.
Some other projects were developed under the auspices of DFQ:  Encounters at the Edge, Restorative Circles (being explored since 2010 following a connection with Dominic Barter, the developer of Restorative Circles), and other community projects. Let us also include, in 2010, within the 'Community Wellness' project, an interesting collaborative experience with Ecuador where I have been invited to participate by its ardent representative, William Hernandez (and his team),who has given a new momentum to the Focusing movement through the art of 'the Pause' as I could share in a report.
A collective project of teaching Focusing one-on-one and in dyads is currently being explored. There is also a plan to refurbish the website.
The invitation to pay tribute to Gendlin and his work as well as the transitional situation experienced by the Focusing Institute and the projected Coordinators Assembly in May 2014 allowed many of us to come together to express both our expectations and our proposed contributions.  A complete report was penned by Solange St-Pierre and presented at the Coordinators Assembly. It can be found at www.focusing.org on the 'Forum for Exploring our Future' under the heading 'Groupe de Réflexion en français' (an English translation is also available at that juncture).
Our association favors and promotes operating from the bottom up, in a spirit of equality, making space for local initiatives, with multiple crossings, holding multilingualism dear to its heart (English, French, Spanish). Let me express here my gratitude to my Japanese Colleagues who, through their generous invitation, allowed me to experience a rich partnership with them around the theme of the Background Feeling, in Fukuoka and Tokyo, in 2013. The community values the co-development of skills and the co-evolvement of meaning and values ​​that unite us internationally. In this spirit, DFQ and the francophone Focusing community encouraged and supported my participation to be their representative at the international level within the newly-formed International Leadership Council (ILC), working in conjunction with TFI's new Board of Directors. I feel honored to have been chosen to be part of this international council to represent the francophone community.
Other areas of Focusing applications are also very active, such as Focusing and Education. Francine Dalcourt, introduced to Focusing in 1996 and certified in 2001, started her own training program for teachers and to this day, she continues to find even more beneficial effects of Focusing on the well-being of teachers. In particular, she notes how teachers, who integrate the Focusing attitudes in the elementary school grades, create a more stimulating and motivating learning environment.
Wholebody Focusing taught in Montreal by Kevin McEvenue since 2006 has expanded with Philippe Hunaut, now certified in this field, and with Patricia Manessy and I who completed the 2-year Advanced WBF Training Program with Kevin McEvenue and Karen Whalen. Very recently, in July 2014, Philippe and Patricia co-taught 3 WBF days in France during IFEF's (l'Institut de Focusing de l'Europe Francophone, Bernadette and Gérard Lamboy) summer school, strengthening the ties with the European francophone community. Over several years, Francine Bergeron, Gaston Boulanger and I have also contributed and been a part of important collaborations and teachings in France.
To all of this, let us include and acknowledge many other Focusing applications in the francophone community, such as: Focusing and Spirituality, Focusing and Trauma, Focusing and the Background Feeling, Focusing and Philosophy, Focusing and Yoga, Focusing and Taekwondo (Richard Lajeunesse), and the Creation of French Focusing videos by Diane Couture, and more.
We are currently 3 francophone Coordinators in Quebec (Patricia, Solange and I) and more than thirty people have been certified in Focusing in the province of Quebec…
N.B. This simply reflects the situation of Focusing within the francophone community in the province of Quebec, just a part of the extensive presence of Focusing throughout the English-speaking majority in Canada's 9 other provinces, including Ontario, Manitoba, British Columbia (with the most certified members).