The Focuser's Focus Vol.22, No.1, Spring Issue 2019
My personal history of Focusing and development in Hong Kong, P.R. China
Chee-seung Chan (TIFI Coordinator, Hong Kong)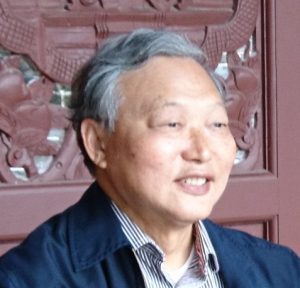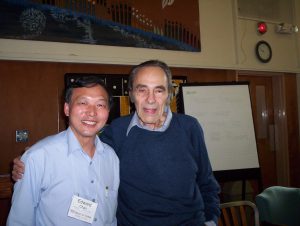 Cheeseung Chang                                                 With Gene at Cicago Weeklong
     I studied Focusing during a summer course taken in the Institute of Spiritual Leadership, Chicago in 1997. The feeling that Focusing is the right "thing" for me to learn and develop for myself aroused and grew stronger and stronger that I dropped off the ongoing studying of a distant learning degree course in "Counselling in Couples and Families" and looked for further studies in focusing. While ordering video tapes on Focusing I got in touch with Mrs. Nada Lou, and start inviting her coming to Hong Kong teaching Focusing to the local community. Once she was known to the public, other organizations also invited her to give focusing workshops as well, thus she came to Hong Kong for ten times from 1999 up to 2008, teaching Focusing, Thinking at the Edge, and also certified another four focusing professionals in Hong Kong.
     Mrs Nada Lou became my tutor and mentor for the focusing training for many years, and certified me as a Focusing Trainer in 2006 and Co-ordinator in 2014..
     I had a long struggling history in becoming a Catholic on my road of faith, and finally when I got in touch with Focusing, I experienced the inner journey deeply down to the bottom of my heart, and strongly believe that God is within each of us. The more I learned and did Focusing I experienced the feeling of much more close to God. The rational demand on the explanation of God's existence and faith turned into the experiencing of the wisdom of the body, in turn connected with God's love.
     Thus, I devoted myself in bringing Focusing into the Chinese Catholic community. In the year of 2002, I started teaching Focusing in my own organization, Couple Co-creation Society. (an NGO with religious background, targeting on the education of Marriage and Families), then in the Parishes in Hong Kong, and later on in the Chinese Parishes in New York, Melbourne, Auckland, Toronto, Macau, whenever I traveled and visited the churches there.  In recent years, I was invited to offer training to couples in the mainland China parishes on the topic of "Marriage and Families", I inserted a lot of Focusing skills and methodology in the couples' training with positive results.
     In 2007, TIFI New York signed a contract with a publisher in Shanghai, China to translate Dr. Eugene Gendlin's "focusing" book into simplified Chinese. I was invited by Mary Hendricks to oversee the translation done by the Shanghai publisher, especially on the Focusing terminology. I formed the trio with Dr. Peter Cheung and Ms. Gloria Lau, ONLY commented on the translation of all the Focusing Terminology and not the whole Chinese translation. It was a hard job, however, we had a very nice comments from Gene and this was the text of Mary's e-mail in 2008: " Gene and I went over your document very carefully, line by line. Gene said it is a great pleasure to him. He is happy about the consistency point, and life's self sense is lovely. He says, "please tell them that I completely agree with them all the time. I am happy with each item separately."  It is very seldom that Gene is able to say that!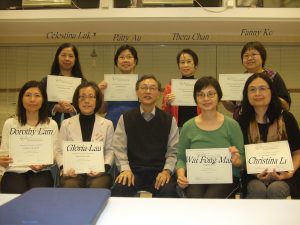 PFP Awards 2012 Group Photo
     Before the establishment of the Hong Kong Focusing Institute. We were very grateful that many oversea trainers came to Hong Kong and introduced the Focusing practice to us, including Ann Weiser Cornell (Inner Relationship Focusing), Laury Rappaport (FOAT®), Nada Lou (Thinking At the Edge and Focusing), Xu Jun (Focusing with Chinese Characters) and Prof. Akira Ikemi(Focusing). Over the past few years,  the HKFI invited trainers from overseas organizing workshop to teach different streams of Focusing to our community, like Dr. Campbell Purton (Working with the whole: Focusing and Buddhist Meditation), Shaun & Alexis Phillips (focusing with Trauma), Dr. Karen Whalen (Wholebody Focusing), and Rene Veugelers (Children Focusing).
     In 2016, three of us (Dr. Peter Cheung,  Mr. Joseph Sing and myself) formed the Hong Kong Focusing Institute, registered with the Hong Kong government as a Charitable organization. The mission of the Hong Kong Focusing Institute Company Limited (HKFI) is to connect and attract like-minded people; to bring diverse strands of Focusing into the Hong Kong community; to facilitate research studies; to promote Focusing and related applications; and to enrich Focusing practice in Hong Kong.  Our goal is to make Focusing accessible to all local people, rich or poor, as long as they see a need for Focusing and want to learn Focusing.