The Focuser's Focus Vol.17 No.1 Spring Issue 2014
Focusing in Argentina
By Elena Frezza Argentina
(Certifying Coordinator, Argentina)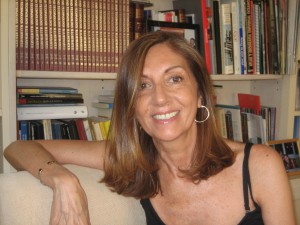 How did I get to Focusing?
My body was my guide.
After many years of terrible back pain, having tried all kinds of help including physical as well as emotional treatments and a fruitless disc herniation surgery, my doctors sentenced me by saying: "You have to learn to live with this".
Given all that pain, I needed to find a loving way with myself; a way in which I could  listen to myself without judgment nor in a disqualifying manner.
I needed to find Elena again. I had lost her somewhere in that pain and loosing her was what hurt the most.
During all those years I was living in the United States. Coming back home to Argentina, through my own suffering I wanted to understand, listen and learn about the great human suffering. My journey started by studying Carl Rogers' Person Centered Approach. Getting to know Carl Rogers'  gave me back trust in human nature and taught me a way to establish a relationship with myself that could be accepting, respectful, tender and at the same time powerful.
As part of my continuing growth, I deeply wished to attend  the International Forum of the  Person Centered Approach in Brasil during August 1989. I was excited because I was going to meet a lot of interesting people from many different countries working with this approach. My pain and I went together, happy and with great expectation..
Then the miracle ocurred!  By chance I met my dearest friend and teacher, Ann Weiser Cornell, who was introducing a workshop about Focusing. Something in me, maybe the part that always knew that the doctors were wrong, led me to that workshop, where I touched an inner place that I had never visited – certainly not in a loving and tender way. My body said: "I want more of this!"
So in 1990 I started my trainning in New York where Ann taught Focusing levels 1 and 2. I bought all her audio tapes, I translated them to Spanish and started teaching my colleagues. In those times there were no computers, nor cell phones, not even a Focusing book in Spanish. So I would travel, tape, record, take notes, type them and complie the information so I could teach.
It was in that same year that I co-founded "Holos", the first Argentinean Center of Humanistic Psychology and Counseling, using the Client Centered Approach. I had also been in Chicago and received trainning from Mary Mc Guire and Janet Klein, two wonderful teachers.
Returning home I translated their notes and exercises to Spanish and gradually started teaching it to my Counseling students,  finding a way to introduce  Focusing adapting it to our culture. In the process of creating this trainning program I would integrate the contributions of each of my teachers, as well as great deal from my pupils and their body wisdom.
After adapting and working with Focusing I was  finally able to meet Eugene Gendlin at a "week long" in Chicago in 1992. I was so moved! I was in the presence of a genius; this humble, loving, revolutionary human being and his ground breaking philosophical idea. It was  such an honor.
In 1996 Eugene Gendlin named me  Coordinator for Argentina at the International Conference in Boston. I recall vividly being sooo moved.  My eyes were full of tears, met Gene´s  and asked him: "And now what am I supposed to do? How do I go on, all by myself in Argentina?". He hugged me and said to me:
"Trust your felt senses, and give yourself time".
Our next step was to obtain official approval from the Ministry of Education in Argentina. Although I was teaching Focusing openly to professional therapists who had learned the Client Centered Approach (not just at Holos), we were just a few in those days like a family.
Over the next five years we were inspected by the Education Ministery until finally Focusing became official in its first two levels of the Counseling Career program in our country.
I developed a program of five levels and created the first Focusing School in Argentina. In the year 2000 Marion Hendricks Gendlin, director of the Focusing Institute International supported and encouraged me to found "The Focusing Institute Argentina".
In  2010, Gene invited me to be part of the Board of Directors saying: "I hope you accept", Isn´t he incredible! How could I not accept such an honour coming from him and the wonderful members whom I know and admire so much!!!
To this day, we have 6 Coordinators in Argentina, a large comunity of Focusing Trainers teaching all over the country developing their own teaching programs, and a countless comunity of students.
Amongst other accomplishments we have organized events such as the First Iberoamerican Conference in 2007 and the First International Conference in South America in 2012.
Focusing has been developing in many areas besides Counseling or Psychoterapy. In low resource communities, poor neighbourhoods, groups of mistreated or abandoned women, children's dining rooms, small projects, education, hospitals, neurosciences, professions related to the body and alternatives therapies, among others, Focusing is now applied.
There is a lot more to do in this lively and growing community. We are continuing to develop together the implicit and marvelous processes of Focusing.
As for Gene Gendlin, my love and gratitude towards him will transcend my life and my country. One day the world will be ready to listen and understand his creation and then, "something" in the world will change
So, I found Elena again thanks to Focusing! I can find her whenever she gets lost and her body starts to hurt…..
As some of my students say, "Focusing exists in Argentina thanks to Elena's back pain…….."!